10 Essential Jewelry Items for Urban Woman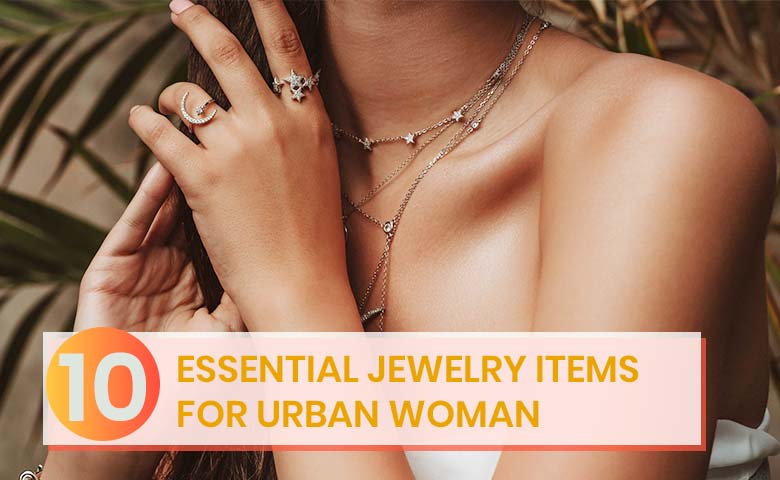 Table of Contents
---
What are the top jewelry box essentials for an urban woman that can transition an outfit to suit the occasion? Here are the top 10 items that would meet the necessity instantly.
Pearl necklace

At middle age the desire of every woman would be to look classy in her fashion choices. And what else can make her most classy than a string of pearls? This item is indispensable in this context, because it can be paired with almost everything, be it with casual or formal. If black dress is your fashion agenda for the day, the pearl necklace is always a good companion.

Gold hoop rings

One great jewelry every woman must have, a pair of gold hoop rings. It's complements for a fierce, fun woman like you. Unleash the sexy look in you with the help of these earrings. You are already so done with crazy fashion antics when you were still young, but that doesn't mean you won't invest now.

Statement Bracelets

Nothing else can pair better with a classic gold watch than your statement bracelet. You may wonder now and say "do I really need it?" the answer is a "yes". When you are in hurry one day, and in desperate need for adornment, you would realize the folly of your ignorance. Therefore, get these gold chain bracelets of your preference, and you will never regret it.

Stacked rings

Simpler fashion style like these stacked rings is the right option if you feel you are too busy for all the jazz that fashion and jewelry bring. This jewelry style is perfect, whether you go formal in your fashion or just out with your friends. Another awesome thing about this is you can get a ring one at a time.

Long Chain Necklace

If you want to look sweet and sassy with your style, here is a jewelry you must get your hands on. This treasure is called a ''Long Chain Necklace" What's great about this jewelry? Perhaps you are in boho chic mood, and you want to try some layering. This jewelry will surely come in handy.

Silver Tennis Bracelet

This bracelet is a great piece to have it as it glams up any attire and works well finish off a formal wear look. Although this elegant and subtle piece of jewelry is traditionally made of diamonds, cheaper gems also work just as well.

Everyday Ring

This is something every woman should have. It's a small piece, silver or gold with classic finishing and smaller gems; something that is pretty enough to complement any outfit. When choosing everyday ring, finding something that suits your skin is crucial, as you will be wearing it regularly. Wear it with clean nails or a pretty manicure for the perfect look.

Pearl or small Earrings

This is another great every day or formal outfit finisher. Who wants some cheap earrings in their ear every day? "None". Therefore, selecting a solid gold or silver piece is a justifiable investment.

Anklet

Adding this jewelry to your collection is perfect for hot days and holidays in order to glam up a pair of sandals and a mid- length skirt. Choose a solid color metal to make the most of this piece, and ensure that it has enough room for free movement on your ankles.

Pretty Choker

Over the last few seasons chokers have been a terrific style piece. When choosing your choker pick something that compliments your fashion style. Black chokers are the choice of the majority of woman. You may wear them from day to day with casual outfits or on a night out.