21 Best Jewelry Quotes, Thoughts & Captions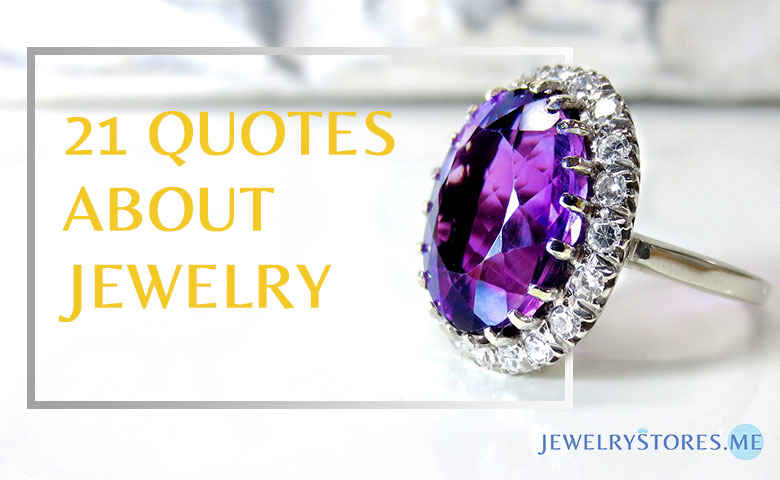 Quest for jewelry items are as old as civilizations. Man's quest to make the best and lasting impression on the one who he meets and greets has made him dig the deepest diamond mines and ponder beyond the usual to find the greatest and latest. Here we explore the thoughts and jewelry quotes that make us appreciate and love the jewelry, gold and diamonds that we aspire, appreciate, wear and show off.
21 Best Jewelry Quotes
Jewelry quotes range from something to ponder in the thoughts to take of the town like you discuss about jewelry store products from prominent brands. There are quotes that people think of jewelry items in high regards and some things that are just fluff. The high society looks for aesthetics and presentation after the Maslow's hierarchy's basic needs are met and looking for reach and aspiration beyond individual needs.
Before we get lost in the philosophical and psychological aspirations, let's jump into the jewelry quotes that make up the 21 best jewelry quotes.
1. "Beauty is who you are. Jewelry is simply the icing on the cake" - Misty Burgess

2. "Give a girl the right jewelry and she can conquer the world."

"Jewelry is like Ice-cream. There's always room for more."

Wear a fabulous smile, great jewelry and know that you are totally and utterly in control. – Donatella Versace

I adore wearing gems, but not because they are mine. You can't possess radiance; you can only admire it. – Elizabeth Taylor

If I'm not feeling good, I load on jewelry. It gives me energy and makes me feel happy. – Kate Hudson

I treat clothing or a piece of jewelry like it was a piece of art. – Daphne Guinness

If you don't know jewelry, know the jeweler. – Warren Buffett

A girl could never have too much jewelry or too much weaponry. – Laurell K. Hamilton

What can I say about my jewelry? It speaks for itself. – Elsa Peretti

Pearls are always appropriate. – Jackie Kennedy

I never hated a man enough to give him his diamonds back. – Zsa Zsa Gabor

It is better to have old second-hand diamonds than none at all. – Mark Twain

It is better to have old second-hand diamonds than none at all. – Mark Twain

Jewelry has the power to be this one little thing that can make you feel unique. — Jennie Kwon

You wear your jewelry, don't let it wear you. – Masaba Gupta

I think part of the beauty of our relationship with jewelry is that it can change and evolve as we do ourselves. – Erika Christensen

I'm very simplistic. I like jewelry that is small, that is a statement piece but with a delicate statement. – Cobie Smulders

You're Not Fully Dressed Until a Piece of Jewellery Add Some Sparkle on It.

Having the Right Jewellery & Attitude Can Literally Change Your Look.

Life isn't perfect but your jewelry can be. – Unknown