6 Wedding Jewelry Etiquettes Every Woman Should Know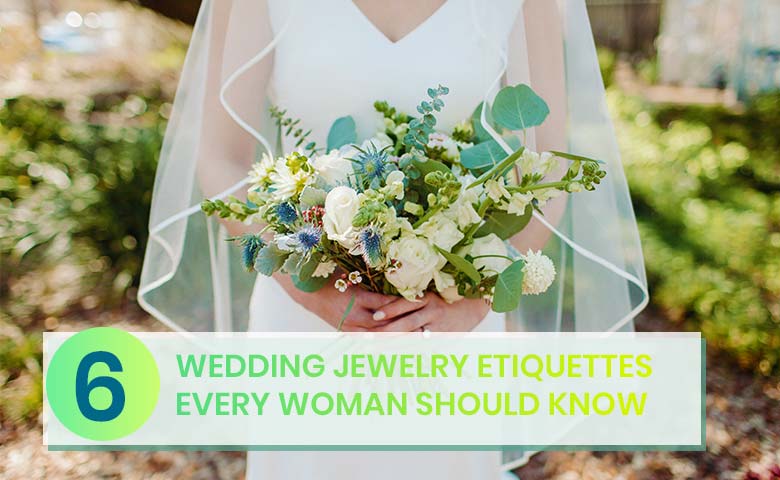 Table of Contents
---
If you are a novice as a wedding guest, you are into a lot of ambiguities regarding what to and what not jewelry to wear to make on the occasion the most enjoyable event. Remember, weddings are fun and one of the best events to look fabulous. However, there are certain things a bridal guest to remember, especially the types of jewelry one should to wear.
If you have been to a lot of such get together, the formality has likely varied at each, and even if hasn't, you probably don't want to wear the exact same thing to every wedding. However it's a chance like no other for a trendy woman like you. Before you start rummaging through your jewelry box or planning to go on a shopping spree for your jewelry need to attend the wedding, you should recall the following six wedding jewelry etiquettes and adhere to them.
Smaller is Better

It is important to remember when attending a wedding that the celebration is all about a couple getting married. So they are given their due. Your motive should be to wear such beautiful pieces making sure that you don't overdo to the extent that the bride is taking the limelight. Therefore it's appropriate to leave behind that jewelry that sticks out to be worn by the bride and not the guest. In simple terms, do not wear such jewelry that draws too much attention on you.

Avoid Statement pieces

As said earlier, statement jewelry might steal the limelight of the bride. Therefore, advisable to avoid to be worn by the guests. However it's fine if worn paired with attire that has complementary simple patterns or solid colors to make the outfit pop. Think of color, texture and a bit of shimmer. Stud and delicate dangle earrings, small pendants, necklaces, single bracelet statements and sentimental brooches make great jewelry choices for the guests. Hats, hair accessories and purses may also be considered at for size, using the thumb rules that less is more.

Don't Overdo It

Making a display of your jewelry inventory by wearing too much of them at the wedding as a guest could mean looking tacky to the point that you would look like you outclassing someone at the gathering. What's even worse, you may overshadow the couple, so it is best to keep a low profile, but still look glamorous enough for the event. A never-do mistake is to stack bracelet jewelry when this is an informal look.

Avoid Diamond Jewelry

When attending a wedding, please make sure not to wear jewelry with diamonds even if you are extremely fond of them. Just wear something different for a day and leave it for the bride to draw attention she needs on her wedding day by wearing diamond jewelry instead of you. Be happy with your wedding ring. Because diamonds are often considered as one of the most elegant and stunning precious stones out there. When worn as jewelry by anyone other than the bride, it will certainly draw the attention and showcases glamour that the bride deserves on that occasion, not anyone else.

Pearls are most suited

Pearl necklace, pearl rings, pearl earrings, pearl pendants and pearl bracelets are in vogue and most suited for a classy event such as wedding that requires a refined taste. Weddings, even if less traditional, you can go for a more cute style of pearls to match your attire. Pearl earrings are one of the few pieces of jewelry that can take any outfit to the next level. Always, be sure to stake on a safe bet when attending weddings. This is a successful strategy to stand out in the class and to enjoy the wedding to the hilt.

Most Important to adhere To

Firstly, mix and match the numerous jewelry styles and colors, depending on whether it's day or night. For the marriage ceremony opt for delicate silver or pearl earrings, and offer lighter, more dazzling colors of stones or gold to the evening reception. Secondly, many woman love matching their heels to bag with nail jewelry which is obsolete and boring. Try to maintain some contrast among what you wear.
Special events such as weddings are a moment to celebrate and to rejoice, and also to do something that would last forever in the memory of the couple. If you are attending one such event, make sure to celebrate it with the couple with grace by wearing appropriate kind of jewelry that sets benchmark for others to emulate. This is one way of providing the couple their best memory of the event by focusing the spotlight on them and none else.