8 Jewelry Tips to Rock Your Party looks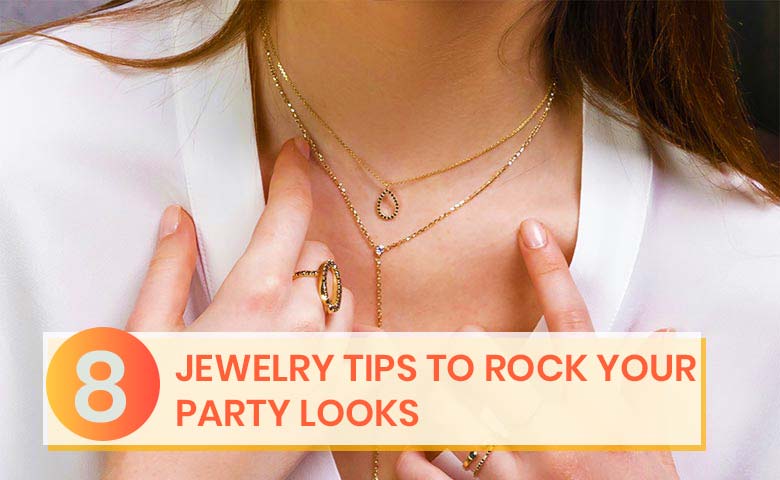 Table of Contents
---
Now that we have come out of the vagaries of the pandemic times, it's the appropriate time to dress up in party wear, put on your make up and stunning jewelry, and gear up to ensure rock your party looks. From traditional jewelry to cotemporary ideas, from time tested pieces to fun filled unique pieces, there's a lot to wear and enjoy to the envy of others. Choice of jewelry, considering the occasion, is also very important for example, if you are going to church, your jewelry shouldn't be same as party wear or dangling wrist jewelry doesn't work well at the office. Here are 8 tips that will make you to stand out in the crowd.
Perfect Earrings

Invest in a pair of earrings to make your face the centre of attraction. The ones with bright colors and glitter that draw the attention would be an appropriate one. Drop earrings that don't taper at the bottom, for example, are a good choice for woman with heart shaped faces. Triangle earrings may be used by women with oval faces to highlight their cheek bones.

Pop in Some Diamonds

Since times immemorial, diamonds are a piece of fashion and class, hence don't forget those pretty shiny stones if you have them.

Layered Necklaces

If you are using layered necklaces or a statement necklace to bring attention to your face and neckline, you may not need an armful of bangles jostling for your attention. On the other hand, if you are wearing a pair of statement earrings, your necklace could be more understated. A bold pair of earrings with a matching necklace shall always work beautifully. When layering your necklaces, juxtapose the shapes of the pendants. Each necklace should complement the other, and not be competing. If have a bold necklace, create a balance by mixing it with a few subtle-look necklaces.

Multiple Ear Piercings Should Not be Allowed to Go Waste

Lucky are those who have multiple piercings in their ears. They add a lot of fun to your style and you can get very creative. Multiple ear piercings allow you to flaunt multiple earrings equally befitting to your imagination.

Charming Bracelet

If wear a charming bracelet to a party, everyone's sight is bound to be fixed on you. You may wear a Rose Gold-Toned Stainless steel bracelet which will give your movement a rocking look. You can also wear a classy diamond bracelet to the party. It will give confident look to your simple attire.

Stud Pair Earring

Whether it is an occasion, a festival or a party, wearing a pair of stud pair of earrings will enhance your entire look. The platinum plate earring or silver colored ones in floral designs would also help you to rock in your outlook.

Beautiful Finger Rings

Rings are those mini jewelry pieces that serve a pretty look. Once you wear it, guests in the party are sure to throw a glance at you. You may choose a ring that has a single and delicate diamond or a butterfly motif with gold tone ring to add beauty to your look. Apart from this, if you are a die-hard fan of gold jewelry then exploring minimalist latest gold ring designs and picking the most suitable one also would be a great alternative.

Touch of Pearls

Pearl jewelry is one of the most feminine jewelry pieces in the world. They remain eternally relevant and never go out of style. An elegant decoration with pearls on any jewelry will add charm to the female image. Besides, they symbolize loyalty in love, purity, and cheerfulness which will be additional trigger to stand out among the crowd. The various colors and the sizes of the pearls will surprise all the attendants at the party.
When you are planning your attendance in a party, it becomes little difficult for you to decide which jewelry to wear. No matter how much you own or love jewelry, you don't want to look awkward because of wearing too much of them. If so, you can be a minimalist with the right choice of jewelry for the occasion. This will not only define your concept of amazing style, but also give you a gracious look. This way, your simple outfit can be converted into an elegant one, and your look among the gathering will also be awesome.