Jewelry Trends for the Year 2022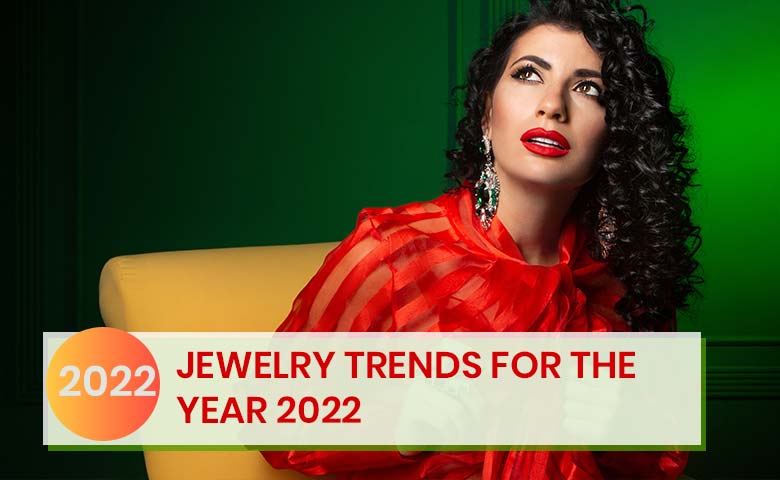 Table of Contents
---
"Jewelry should be personal and playful, let's shelve all the old styling rules and traditions" is the punch line for 2022. This will be a year that reinforces the desire, above all, to please one's self, in terms of jewelry. Scrolling down the list of the hottest jewelry trends reproduced below certainly would work wonders for you in narrowing down to your most preferred pick.
The 2 years that have gone by are a bad phase in the history of fashion world. Now that the pandemic has been cornered and every kind of social activity, including the entertainment and tourism industry are back to pre-covid levels, the fashion trending is back with vengeance. Fashion lovers are also back from the Pandemic induced slumber and out in the open to give vent to their subdued emotions. Coupled with it, is the urge to explore and acquire the jewelry that would appeal the most to their sentiments.
The Choker

Whether this is a bold gold design or a slinky torque, the choker will elevate the look. In fact it's the power piece. It was one of the stand-out pieces at the Paris show in January, says Rembert. "We just saw several jewelers; all unveil pretty spectacular collar necklaces, which will undoubtedly make their way to the red carpet this award season."

Maximalist Earrings

This looks chic with everything. Every jewelry designer is doing their version of extra- large earring. Big earrings are always in style, but they have even trending more this year. Loura Freedman, owner of 'Broken English', a jewelry store with locations in Los Angeles and New York is bringing back the jumbo-sized Italian gold hoop to meet the present trend.

Bold Gold Chain

Chains are dynamic because you can link on lockets, charms, family heirlooms to a necklace and make it your own. There is no shortage of luxury gold chains-from versatile long necklaces that can be wrapped twice for maximum impact to chunky bracelets and drop earrings.

Candy Color Jewels

From bright enamels to mouthwatering gemstones, vibrant, juicy colors give jewelry a blast of high energy. Freedman favors Daraki, a new Italian collection with gold and rhodium-plated electric blue and red links that she is bringing to meet the upcoming trend.

Modern Riviere

The modern riviere is chic, versatile and everyone's favorite. 'Riviere is like a second skin," says Freedman. "You can wear it day to night, sleep in it, and it can be layered with longer necklaces and worn with pretty much with everything".

Super Chic Signet Rings

A favorite of men and women, new style feature personal and sentimental motifs and they can be customized with zodiac signs, birthstones, and initials and just about everything. We can't stop loving it, because designers keep developing new takes on these classic rings. That's what makes it special.

Hoops on the Go

The humble hoops have been iconic since the 80's and over the years they may have been squashed down, blown up, stretched out, geometricized and what not. The result: there is one for every one. Also what make this must have accessory this year are the little additions such as hanging crystals that catch the light in all right places.

Cutting Edge

Statement pieces are always in style, ready to break the ice and do talking for the wearer. An entire outfit can be designed around statement pieces with minimalist color blocking to let the jewelry stand out. Pairing exquisite pieces together can create a statement that is unique to you and your closet.

Lux Lanyards

To say that lanyards have become a way of life won't be a surprise. They used to be a vintage addition to your sunglasses back in the day, but today, they double up as a cool accessory for your face mask and sun glasses. While there is plenty on offer, the one most loved features pearls that are sure to look great from every angle.
Social media that has inhabited every part of our personal space is where self-expression will reach its peak. Using this platform to play out the best version of yourself, to send a message about who you are and what you stand for is a nuanced matter. This is why power dressing should be an essential indulgence-a routine that provides a boost of energy and uplifts your overall mood.